Madeleine McCann Search Is Over, Portuguese Police Say
A search of a reservoir in Portugal that came more than 16 years after the British girl went missing resulted in the collection of some material but did not solve the mystery of her disappearance.
Portuguese police have said material unearthed from a reservoir in Algarve will be sent to Germany for analysis after the first major search for Madeleine McCann in a decade came to a close.
After three days of excavation on a spit of land jutting into the Barragem do Arade reservoir in south Portugal, officers were stood down and a spokesperson for the Polícia Judiciária said the collected material would be delivered to the German authorities.
German prosecutor Christian Wolters said: "Of course we are still looking for the body. We're not just looking for that, of course. There are other things too. Any discovery of clothing could help our investigation."
The search had been requested by the German authorities who are seeking to prove the case that Christian Brückner, 45, a convicted rapist, killed Madeleine, who was three years old when she went missing from her parents' holiday apartment in the Portuguese town of Praia da Luz in 2007.
The operation, completed by the Portuguese and German officers but with Metropolitan police officers in attendance, had involved clearing a number of areas on a bank on the reservoir.
One 10-metre squared patch of land appeared to have been the focus of the investigation. The slope of the bank had been cleared of wood and cut into. A series of deep pot holes had been scoured into the ground and soil samples had evidently been removed.
There were signs of past human habitation including a rusting chair and a blue suitcase. have only said that "indications" and "tips" led them to seek the search but it has been suggested that photographs found in 2016 had provided evidence that Brückner had regularly visited the reservoir which he is said to have described as "my little paradise".
Kate and Gerry McCann, who had been eating a tapas meal within eyesight of their holiday apartment when their daughter disappeared on 4 May 2007, now face a tense wait for the results.
Wolters, whose force requested the operation, said there would be a period of silence.
Wolters said that as the accused had not yet had access to the files, the authorities would not yet publish any new evidence that might implicate Brückner, a German national who was the prime suspect in Madeleine's disappearance.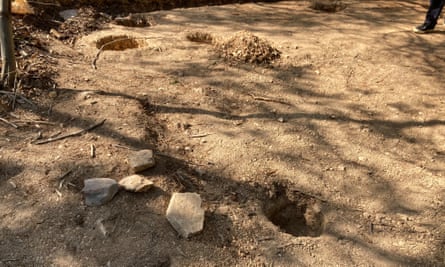 A spokesperson for the Polícia Judiciária said: "The steps requested by the German authorities, through a request for international cooperation, have been fulfilled, which resulted in the collection of some material that will be subject to the competent expertise.
"The operation was coordinated by the judiciary police, which involved investigators, criminal experts and security personnel. Safeguarding the interests of the investigation still under way in Portugal, the collected material will be delivered to the German authorities."
The operation was the biggest search for a decade into the then three-year-old's disappearance. It had been due to end on Tuesday but it had taken an additional day to complete the planned work.
Wolters said they had a search warrant for a specific area, which had to be searched in its entirety. He said: "If we don't find anything, we will certainly tell you quickly."
There was no further statement on Thursday. The site of the search was 30 miles from where Madeleine went missing 16 years ago.
The former Portuguese detective Gonçalo Amaral, who led the botched Portuguese investigation in 2007, claimed it was a waste of resources and a sham.
Amaral, who successfully fought a defamation case in 2016 after claiming Madeleine died in her parents' holiday apartment, predicted it would come to nothing.
"In a simple analysis I see there is no new investigation and what is occurring is more a case of constructing a profile and a scapegoat," he said. Amaral lost a libel battle with lawyers representing Kate and Gerry McCann after publication of his book but he subsequently had the result overturned on appeal.
German police have been keen to emphasise that their chief suspect had not confessed nor offered any help as they swept the area.
Brückner, who was jailed in 2019 for the rape of a 72-year-old American tourist a mile from the McCanns' holiday apartment in Praia da Luz, was officially named by the Portuguese police as a suspect, or arguido, last year in the disappearance of the British child.
His mobile phone's signal had been located in the immediate area of the Mark Warner Oceans resort where the McCanns had been staying on the day of Madeleine's disappearance. He has not been charged with any offence in relation to Madeleine's case, and has denied any involvement.
Last month, a German court said it was cancelling a sexual offences trial against Brückner on charges unrelated to McCann's disappearance but which were also said to have taken place in Portugal, on the grounds that the region where it is located is not the last place he lived in Germany.
He had been facing prosecution in Braunschweig over three offences of aggravated rape of women and two offences of sexual abuse of children. The alleged offences took place in Portugal between December 2000 and July 2017. The force in Braunschweig is challenging the ruling.
Mark Hofmann, a criminal profiler in Germany, said Brückner, who is serving a seven-year prison sentence, had a history of keeping "trophies" from his crimes. He said: "From chat histories with like-minded people and from other crimes it is known that Christian B tends to do exactly this: documenting his crimes."
The free press is under attack from multiple forces. Media outlets are closing their doors, victims to a broken business model. In much of the world, journalism is morphing into propaganda, as governments dictate what can and can't be printed. In the last year alone, hundreds of reporters have been killed or imprisoned for doing their jobs. The UN reports that 85% of the world's population experienced a decline in press freedom in their country in recent years.
As you join us today from India we hope you will consider supporting us in our efforts to do something about this. Despite the financial challenges plaguing the media industry, we've decided to keep our journalism paywall-free, because we believe everyone has the right to high-quality, fact-checked reporting. And we maintain our independence thanks to generosity from readers all over the world, who understand that supporting the free press is an investment in an informed and empowered public.
Unlike many others, we have no billionaire owner – this helps us maintain the freedom to fearlessly chase the truth and report it with integrity. Your support will allow us to continue to work with trademark determination and passion to bring you journalism that's always free from commercial or political interference.